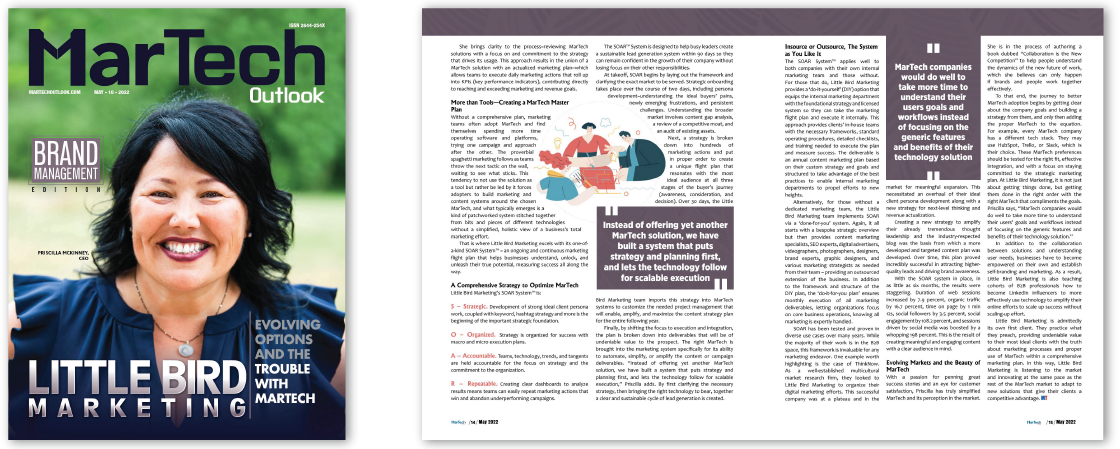 That's right. Priscilla McKinney made her way onto the cover of a magazine. Not Vogue (this time), but a reputable market research platform, MarTech Outlook. They share top-shelf service solutions for the information-driven and technology savvy.
"Instead of offering yet another MarTech solution, we have built a system that puts strategy and planning first, and lets the technology follow for scalable execution."

– Priscilla McKinney
We're usually not one to toot our own horn, but we believe it's warranted this time. MarTech Outlook named Little Bird Marketing a Top 10 Brand Management Solutions Provider. They recognized and featured our signature SOAR™ System, which has proven successful and invaluable to companies across multiple industries focused on business and revenue growth.
"MarTech companies would do well to take more time to understand their users' goals and workflows instead of focusing on the generic features and benefits of their technology solution."

– Priscilla McKinney
If you've been searching for a way to differentiate yourself from the marketing noise in the industry, then look no further. Not only can you see another gorgeous photo of the Momma Bird, but you can also discover how the SOAR™ System applies to the growth-aspiring market research business. Priscilla shares some candid call-outs of mistakes she constantly encounters with companies in the MRX sphere. This story in MarTech Outlook breaks it all down.